About us

who we are
The farm Musignano di Andreoli G. e C. takes its name from the locality Musignano, where the manor house, la villa, of the owner family is located. The house is also known according to the names of its owner families, i.e. Taccini, Fargna, Giorgi, Martegiani and nowadays Andreoli.
The villa has been designed and built by architect Santini in the middle of 19th century for the noble lady Adele Taccini, who was so fond of her house that she wanted to be buried in the small chapel inside the house itself. Probably it is due to this very reason that the house has recently taken again the name Villa Taccini.
Originally the house was surrounded by agricultural land of the farm. However, at the moment around the manor house one finds only a park and some woodlands, while the farm is almost exclusively located in Ponticelli village of the municipality of Città della Pieve.
The farm's production is mainly geared toward arable crops that cover the majority of agricultural land, but our farm has also about seven hectares of vineyards and more than 1.250 olive trees on the hills that are particularly suitable for these crops.
During the recent years we have started an improvement and investment process in the farm that has meant a re-evaluation of available farm resources like olive groves, vineyards and old tenant houses out of which one is now used for agritourism.
Val di Chiana under winter fog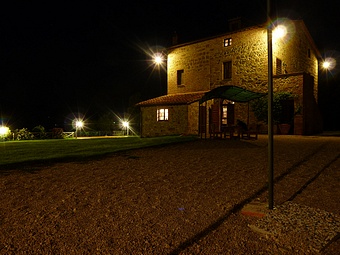 Palazzolo: a night view