PHOTO GALLERIES:
* * *
Palazzolo, that has been the house of a tenant family, follows the traditional structure of these houses, which were constructed from different adjacent parts as the family grew in numbers. It was divided into two parts: a ground floor with stables and warehouses and a first floor with the living quarters, where one climbed using the outside staircase.
Recently restored with love and trying to preserve as much as possible its original structure, Palazzolo is today a single unit that in its 320 square metres with 5 bedrooms (three with double and two with a couple of normal single beds each) can comfortably house 10 people. Who can spend their holidays in a relaxing environment, in a house surrounded by vineyards.
The furnishing of Palazzolo has been done with great care and attention, combining the history of the family and that of the farm, since one has used as paintings reproductions of old photographs and posters from the end of 1800s and the first two decades of 1900s. This addition of a touch of history does not take away the fact that the house is built with all modern comforts.
Outside of the house its guests have a spacious yard with both parasols and gazebos giving shade from the sun during hot summer months. In addition, Palazzolo has a swimming pool that can be used for a refreshing swim when the Sun seems to get too hot.
The house, although being very close to the provincial road connecting the village of Ponticelli to the town of Città della Pieve, is immersed in the quiet and the green colour of the farm's vineyards that surround it. Besides, from Palazzolo you have splendid panoramic views towards Città della Pieve, Mt. Cetona and the Chiana Valley.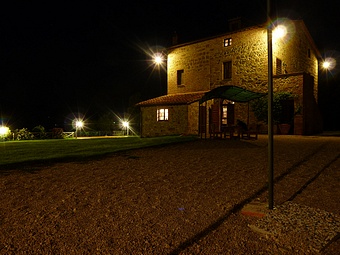 Yard of Palazzolo in late evening
Swimming pool
Hall [library]: first floor