Inside Palazzolo
General information
Palazzolo has three floors and it is possibile to make a virtual visit inside the house. Every floor has a page dedicated to it. The floor plans have links to additional photos for the floor plan in question.
The ground floor is totally dedicated for the day or living. It contains an entrance, kitchen, dining room, two living rooms out of which one contains a fireplace and the other a satellite TV. This floor completes with a bathroom and a fully equipped laundry.
The first floor contains an entrance that serves also as a living room for this floor and three bedrooms. The master bedroom of this floor has its own bathroom. The two other bedrooms, consisting of a bedroom with a double bed and a bedroom with two single beds, however, share a bathroom, that is located between them.
The second floor includes like the first floor an entrance-hall that also serves as a living room. The two bedrooms of this floor are a double-bed bedroom and a bedroom with two single beds. These rooms have a big wardrobe closet each, while they are sharing a bathroom with a shower and a bathtub.
Additional information
The house has solar panels that allow to heat the water of the swimming pool in autumn and spring and to produce hot water for domestic use without resorting to the heating system during the summer months; this consequently means energy saving and a bit lower emissions of CO2.
The service includes all linen (sheets, towels, etc.); for the final cleaning of the house when leaving we charge a small sum. However, if the stay is longer than a week the cleaning in the middle of the stay is included and at that time we also change all necessary linen.
Dinner area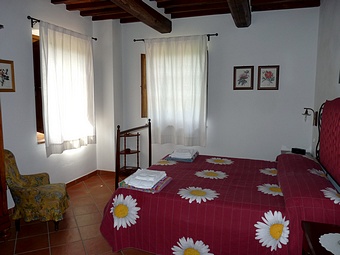 Bedroom
Kitchen